By

Fall seems to be coming early to my little corner of the Ohio Valley, and that's just fine by me. This morning I'm writing out on the front porch, coffee in hand, gleefully anticipating bright, cool days filled with turtleneck sweaters, pumpkin spice lattes, and visual feasts of red-gold leaves.

I'm also anticipating feasts of a different sort—the feasts of the Guardian Angels and Archangels, of Sts. Jerome, Pio, Gregory the Great, and Francis of Assisi, of the three Teresas' (Avila, Lisieux, and Calcutta), of Matthew and Luke, Simon and Jude, not to mention the nearly half dozen Marian feasts, the feasts of Monica and Augustine, the new feast of Blessed John Paul II, and…well, you get the point. From now, right through All Saints Day, it's pretty much one big party for the Church.

Which I love. It inclines me to think that Autumn isn't only my favorite season, but God's as well, with him liberally bestowing upon his children one reason after another to indulge in pumpkin spice lattes…or the harvest bounty of one's choice.

What I love even more, however, is that all these autumnal feasts never seem to grow old. Just the opposite in fact.

With each passing year, I find myself more excited about the perpetual feasting. As my friendship with the saints grows, so does my desire to honor them, as well as my delight in the whole Church doing so.

Twelve years ago, when I was making my way back to the Church, that's not something I could have fathomed. I already knew and loved Jesus, and his example and friendship were all I thought I needed. The saints seemed like unnecessary distractions from the one relationship that did matter, something for those who were weak in faith and didn't grasp the reality of Jesus' saving love.

Well before that, as a child with the great misfortune of being catechized in the 1980s, I didn't even know enough about the saints to call them distractions. They weren't talked about or taught in my parish or school any more than the Rosary was prayed or the Eucharist adored.

So, how did I get from such a sorry state of ignorance and prejudice to the point of wanting to throw a dinner party every time the Gloria gets sung at a weekday Mass?

The answer, I suppose, is the same way that I got to be friends with the people I'm inviting to those dinner parties. I talked to them. I learned about their lives, their faith, and their peculiarly personal quirks. And, bit by bit, I came to depend on them, as friends are wont to do.

I don't, mind you, depend on them for just any old thing.

When it comes to my earthly friends, there are friends I call upon when I need to cry about boys or plan an outfit for a date, and there are friends I call upon when I need my plumbing fixed or my writing critiqued.

With the saints, it's pretty much the same. Different needs, different saints. So, when tackling tricky home renovation projects, St. Joseph is my go-to guy. When my favorite sweater has gone missing, I turn to St. Anthony. The Little Flower is there to help me keep my opinions to myself in delicate situations, and God's crotchety scholar, St. Jerome, comes right up on her heels to console me when such attempts fail…which they often do.

There also are my dearest friends: St. Catherine, who gives me the courage to write unpopular truths, St. Gianna, who hears about the sorrows of my childless heart, St. Edith, who counsels me in the ways of all things feminine, and Blessed John Paul II, who, while still among us, called me home.

In all those needs, great and small, my holy friends never let me down. They are there in an instant, with no babies or bosses or crises of their own to delay their response.

Likewise, no matter what problem I face, among the saints there is always someone to whom I can turn. As that sage old king in Ecclesiastes said, there's nothing new under the sun: Every problem encountered has been encountered before. Which means you and I are never alone. Someone else has been there. Someone else understands. Someone else knows exactly what help we need to endure.

Heaven is filled with those someones—someones who in a particular place and time learned to image Christ in a glorious, radical, wild, singular and surprising way—facing down the Vandals, kneeling at the Guillotine, praying in a cloister. Now, they stand ready to help us do the same in our own place and time—defending the Church, protecting the poor, doing the dishes on a Tuesday night.

And yes, I know Christ can and does help us in all that too. Christ doesn't need his saints' help in getting us wayward creatures to Heaven. But he does want it.

For whatever reason, God seems to have this thing about not doing anything alone. He always wants his children's help—our prayers, our hands, and our words. My guess is that's because he isn't a Person. Rather, he's Three Persons. He is a Communion, a Family. As such, his invitation to us isn't just an invitation to himself. It's an invitation to communion—to communion with the Trinity and with our brothers and sisters on earth, yes, but also to communion with every soul who has ever loved and served him, with every angel and saint gathered round his throne.

So, as this season of perpetual feasting begins, honor God by taking him up on that invitation. Pick a saint and learn more about him. Read how he lived or what he wrote. Talk to him about what troubles you—your back, your mother-in-law, the weather. Then ask for his help. Do the same with his friends.

If the liturgy isn't to your liking, invoke the aid of St. Pius X, whom we celebrate today.

Likewise, if you're in danger of letting your eyes go where they shouldn't, put a call into St. Augustine, who knew all too well the temptations of the flesh.

Broken-hearted over a spouse who won't believe or children in desperate straits? Take your pick of saintly women who've walked in those shoes: St. Monica, St. Rita, and Blessed Elizabeth Canori Mora are a few among many.

Or perhaps you're down in the mouth about the state of Western Civilization, the moral collapse of the West, and the continued existence of reality TV? Any of the early saints and martyrs who walked the streets of the Roman Empire in its final days can feel your pain.

The same goes for bouts of depression over corrupt politicians and weak bishops. St. Thomas More and St. John Fisher have got your back.

That's the glory of knowing the saints. No matter what struggle we're facing or trial we're enduring, we can bet some holy man or woman has been there before us and now stands ready to show us the way forward.

We also can bet that welcoming that saint into our life won't diminish the love or need we have for Christ, any more than welcoming a new child diminishes the love or need a wife has for her husband. Love doesn't work that way. It's not a zero sum game, with limited and defined quantities to be carefully parceled out.

Rather, love begets love. The more we love God, the more love he gives us for his saints. And the more we love his saints, the more love we find we have for God.  Loving the saints feeds our love for God. It deepens it and strengthens it. It helps us see just how great his grace is. It also helps us see how many ways there are to him, and what a glorious company it is to which we're called. Which in and of itself is reason for a feast.

Like we needed another excuse.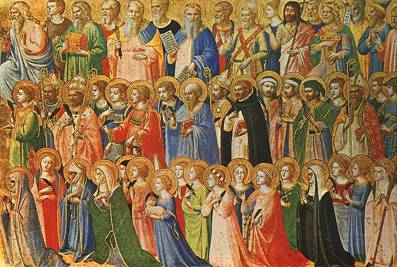 Emily Stimpson is a Contributing Editor to "Our Sunday Visitor" and the author of "The Catholic Girl's Survival Guide for the Single Years," where she dishes on the Church's teachings about women, marriage, sex, work, beauty, suffering, and more.