By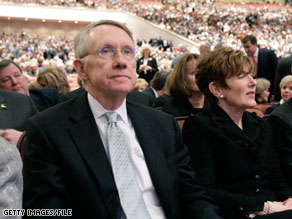 Senator Reid is the Democrat point-person on pushing through their plan for overhauling health care through the Senate. Last night his family experienced a great trauma:
 Senate Majority Leader Harry Reid's wife broke her back and neck and his daughter suffered a neck injury in an auto accident, a spokesman said late Thursday afternoon.

"Their injuries are non-life threatening," Jon Summers, Reid's spokesman, said in a statement. The Nevada Democrat's family was traveling along a "Washington, D.C. highway" when "their vehicle was rear-ended by a semi-truck," Summers said. (CNN)
I gravely disagree with Sen. Reid on many issues, and I think his running of the Senate is often needlessly manipulative and partisan, but today at Mass I will be praying for the recovery of his wife and daughter, and I invite you to do the same.