By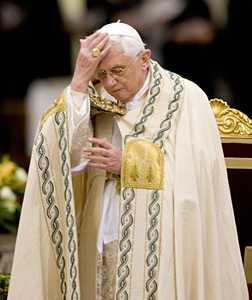 Rachel Zoll's article for the Associated Press, "Catholic loyalists take to their blogs to defend teaching" has been widely republished over the past week, from the New York Times to the Washington Post, from MSNBC to Yahoo! news, normally under the new headline "Catholic bloggers aim to purge dissenters."
I am quoted several times in this article, and I've responded to how I think my positions were somewhat mischaracterized in the final version. I also said that I think Zoll is over-hyping the situation. The next point I want to make is that I don't think the subsequent discussion over the claims made in the article are helped at all by the fact that I am quoted along with Michael Vorris and the "Bryan Hehir Exposed" blog.
While all of the individuals discussed in the article may broadly be described as "right-of-center", it's unfounded for my body of writing to be categorized as wholly in-step with theirs. There is as much variety among our side as there is between the authors of America Magazine and Joan Chittister at NCReporter (I hope!) on their side.
Margaret Cabaniss at Inside Catholic injects a little bit of sanity into the discussion:
"Enraged," "unsettling," "dissecting," "hunting" — strong language for a story about… blogging. Even the title — "Catholic bloggers aim to purge dissenters" — gives the impression of some shadowy cabal of extremists who are slowly taking over the Church… when the crux of the story is essentially, "Some Catholic bloggers get fired up about things they don't like." Which describes 99% of bloggers, period.
Okay, so besides the article being somewhat hyperbolic – why does this topic and Zoll's article in general get so many liberal Catholics so steamed?
I think the answer has to do with the label "Orthodox". For the record, I don't have a particular attachment to it. Instead, I think of myself as simply a "faithful Catholic" – a papist. In other words, someone who follows the teachings of the pope and Magisterium faithfully. From the outside, this position is often described as "Orthodox."
Surprisingly enough, a militant atheist blogger gets the point about Catholic identity and orthodoxy quicker than most – I've edited his language a bit for my courteous audience:
If the Pope says something and you just dismiss it, how "Catholic" are you?

… if I were Catholic (and took it seriously), I'd be p***ed off if people did exactly the opposite of what my church taught but still clung to the label.
I wouldn't describe myself as "ticked off". "Ticked off" would be an emotion, and emotions fizzle out. Instead, this is an intellectual attitude: much of what I debate on AmP is precisely about what it means in reality to be Catholic, to be a joyful member of a faith with objective teachings and norms. When I take up strong positions, my claim is not a modest one: often times I'm not saying my interpretation of the faith is this way, I'm saying my faith leads me this way. (Arguments welcome.)
A commenter using the handle "budida20″ puts it this way on the dotCommonweal blog: "I am disappointed that the [Associated Press] has fallen into the language of only calling certain Catholics (Peters in the this article) 'orthodox.'"
Where liberal Catholics want a "big tent" Church that allows their position alongside an "orthodox" one, "orthodox" Catholics believe in an objective faith, in indisputable norms and irreplaceable teachings. Where liberal Catholics want to see shades of gray, papists see black and white. I understand that's annoying to liberal Catholics. But instead of railing against how inflexible this is, how about arguing about if it is right or wrong?
James Martin, SJ of America Magazine makes the most sustained attempt to take the Associated Press article and turn it into a through-and-through condemnation of conservative blogging. He does this by lumping good conservative blogs in with, well, bad ones. But let's see how my writing stands up to the Martin critique, because if my writing does, the writing of many of the Catholic bloggers I admire will fare well also.
1. Fr. Martin says many bloggers write anonymously. I never do. Check.
2. Fr. Martin says many bloggers betray little theological knowledge. It's true, I don't have a PhD or STL/D in theology. I do, however, have four years of graduate studies and two Masters' degrees in theology under my belt. But let's remember, it doesn't take an advanced degree from the Angelicum to be able to say with confidence that Nancy Pelosi sounds more protestant than Catholic when she discusses her faith, and that the Church has definitely ruled against female ordination and condemns abortion, for instance.
3. Fr. Martin says the the focus of many bloggers is "risibly narrow", and lists "homosexuality, abortion, women's ordination, birth control, liturgical abuses and the exercise of church authority, then asks "Is this really the sum total of what makes us Catholic?" Of course not, Fr. Martin, but imagine if the Church and our culture were united in our understanding of these issues? Wouldn't the world be a better, more just place? Or should we spend more of our time asking if Homer Simpson is Catholic? I'm confused. Isn't it more likely that these are simply a set of topics that Fr. Martin is tired of seeing actively debated, especially if he doesn't like what he witnesses being said?
4. Fr. Martin says our attacks do real damage to real people, and calls this "McCarthyism at its worst". First, I'd like to see a list of the "real people" who have had real damage done to them, and ask next if that damage was deserved. Honestly, if you are an official in the Church or at a Catholic organization, and you have done things that deserve firing or censure, you should be fired or censured. Is this a red herring or is Fr. Martin unhappy that faithful Catholics have discovered people who have been spouting heterodoxy for decades, and have decided to ask their superiors if they endorse this?
5. Fr. Martin says we show little desire to speak to our targets. I'm not sure how Fr. Martin is measuring this. If you say something in public you make yourself open to public criticism. That's the way the world works – not just blogs. In my experience, attempts to have a private dialog are often rebuffed. At any rate, public falsehoods ought to be followed by a public apology. The damage caused by public comments to the faithful require this. That said, my email address is proudly displayed on the sidebar, and always has been. I'm literally seconds away. How many liberal Catholic bloggers do this?
6. Finally, Fr. Martin trouts out the "charity" argument. We're not charitable, he says. I come across this all the time. "Charity" has become the Catholic pablum for "tolerance" in the public square. However, correcting the error of others is a charitable act, if done properly. Fr. Martin, moreover, apparently sees no contradiction between calling for more charity, while simultaneously beginning his article with John Allen's phrase "Taliban Catholicism" (describing us) and later accusing us of "McCarthyism." Evidently, just as you must be tolerated but need not show tolerance, Fr. Martin must be shown perfect charity while arguably not practicing it perfectly himself. I'm not saying we don't need more charity, I'm saying the ones who shout for this the loudest seem least inclined to practice it perfectly first themselves.
Jeff Miller at The Curt Jester has made similar points when it comes to this "charity" question and Tom at Disputations actually lists all of Fr. Martin's choice words about us:
"Taliban Catholicism;" "both craven and cowardly;" "little theological knowledge;" "someone barely out of college;" "McCarthyism at its worst;" "devoid of any sense of Christian charity;" "they don't seem particularly Christian."
If you set aside the "charity" argument, Fr. Martin's critique of us – the liberal Catholic critique – is that we are an anonymous, uneducated, narrow, hurtful, hypocritical group of people. Which I would argue is just five different ways of saying we don't agree with many of his conclusions about the Catholic faith. So how about we just stick to the disagreements, and cease getting stuck on the personalities?
More will be accomplished, and who knows, we may even discover the truth.