Kraków is thick with the spirit and memory of the soon-to-be-canonized John Paul II. It is a place full of what Pope Francis called, in Lumen Fidei, "visible and material realities [which] point beyond themselves to the mystery of the eternal." Yesterday I listed five Can't-Miss places that pilgrims to Kraków should check out. These next five places are much easier to miss, but are worth seeking out. Each is a vivid reminder of the sacramentality of faith and the power of grace to transform the ordinary into the truly extraordinary; just as a young man from Poland was transformed into a great saint.
1) The House at Tyniecka 10
JPII lived in the basement.
There is actually not much to see here; just a plaque marking the spot and a grey three-story house in the D?bniki district on the banks of the Wis?a River. But it was while living here, in a basement apartment, that young Wojty?a answered the call to the priesthood. In a billion hearts in a billion homes (and dorm rooms and chapels) across the world, the very same drama plays out today. Like all vocations, Wojty?a's did not end with his "yes"; that "yes" was the first step on a journey he could hardly have imagined at the time. The "yes" given by the young man at Tyniecka 10 is a reminder of the immeasurable consequences of faithfulness.
2) St. Stanislaus Kostka Church
Speaking of the ordinary, when Karol Wojty?a and his father moved to the D?bniki district of Kraków in 1938, this became their parish church. It is, at George Weigel put it in Witness to Hope, was "stolid, working-class D?bniki's sole experiment in art deco architecture." There's a reason for that. The church is not particularly beautiful, outside or in. (Some might call that an understatement.) The point is this: We experience God in beauty. This truth is in no way diminished by recalling, at least now and again, that holiness can flourish in far homelier settings, too. We should love beauty and nobility, but never disregard—still less be discouraged by—the humble and lowly. Karol Wojty?a had an ugly parish church, and he turned out just fine. So can you.
3) St. Leonard's Chapel, Crypt of Wawel Cathedral
Preparing for Mass in St. Leonard's Chapel
Another place laden with sacramental significance is the chapel of St. Leonard in the crypt of the great Wawel Cathedral. Karol Wojty?a studied for the priesthood in secret. (Nazis were, shall we say, not fond of seminarians.) When he was ordained for the Archdiocese of Kraków in 1946, he chose to celebrate his first Mass in this small crypt chapel, among the tombs of Polish kings and heroes.
Perhaps the choice of venue was a subtle act of defiance. Poland had emerged from Nazi occupation into the waiting arms of Soviet domination; both regimes hated and feared the Polish nation and its deep sense of history and identity, to say nothing of its Catholic faith.
Though Wojty?a would become a giant on the stage of history, it was not always so. As pope, he would receive heads of state in a palace in Rome, but on that November day in 1946, he was a "newborn" priest of a persecuted Church in a nation with no prospects and powerful enemies. It was not the lives of Jan III Sobieski and Tadeusz Ko?ciuszko—who are among Polish heroes buried in St. Leonard's crypt—who would be the measure of Wojty?a's life, but the One whose sacrifice he offered on that altar.
To celebrate Mass in St. Leonard's chapel—as I recently had the opportunity to—is to be reminded that there is but one Lord of History. Kings and heroes rise and fall; empires wax and wane. But through it all, Christ and His Church remain.
4) The Archbishop's Chapel, Archbishop's Residence
Chances are you won't be able to get in here, especially during World Youth Day. But the private chapel of the Archbishop's residence is such a remarkable place that it makes the this list regardless of accessibility. This is the chapel where Karol Wojty?a was ordained a priest in 1946. It was in this chapel that he offered daily Mass when he was Archbishop of Kraków. And it was here, just left of the altar, where he spent untold hours writing at a small desk he had set up so he could work in the presence of the Blessed Sacrament. Even his work was a prayer.
The chapel was renovated a few years ago under the direction of the current Archbishop (and John Paul's secretary of 39 years) Stanis?aw Cardinal Dziwisz. The silver reredos is a tribute to Pope John Paul II, depicting seven churches that were of special significance in his life and pontificate: St. Peter's, The Church of the Holy Sepulchre, the Mariacki, the Shrine at Fatima, the Sanctuary of Divine Mercy, Wawel Cathedral, and the parish church in Wadowice where he was baptized.
5) Second-Last Pew on the Left, Franciscan Basilica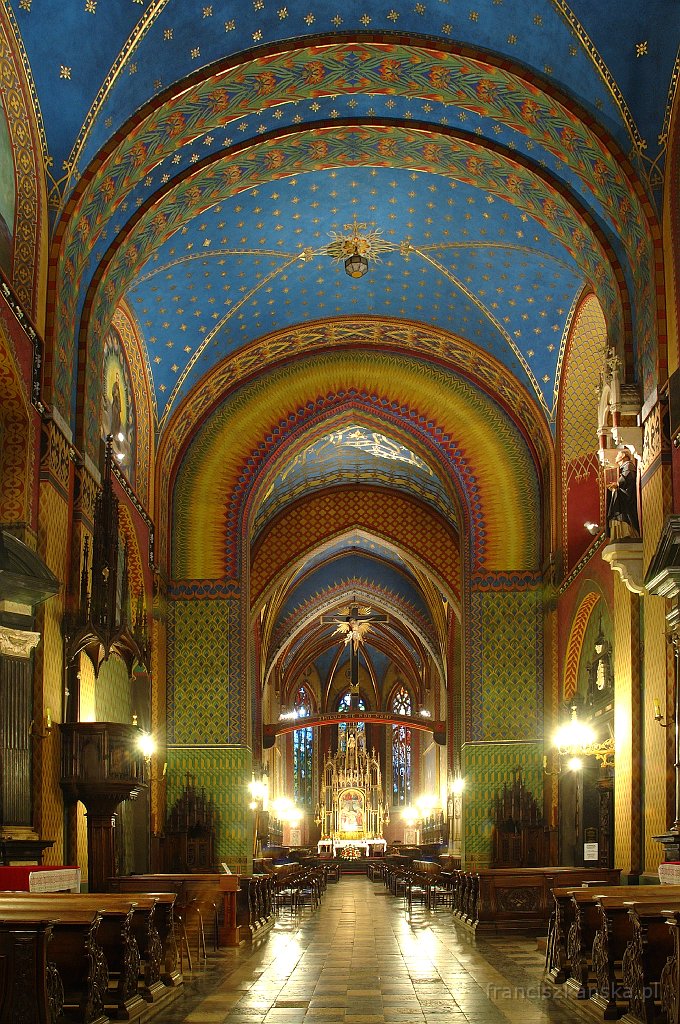 Then there is the second-last pew on the left, facing the altar, in the Franciscan basilica of (who else) St. Francis of Assisi. The church itself is remarkable: It's beautiful, late 19th century stained glass windows alone are worth the visit, as is the chapel of the Passion of Our Lord, which includes a full size replica of the Shroud of Turin. Devotees of St. Maximilian Kolbe will be interested to know that he once lived in the friary adjacent to the church. But my favorite spot in the whole place, and one my favorite places in Kraków, is that second-last pew on the left.
Truth be told, it's just another pew, cramped and uncomfortable in the Polish style. But every day, Archbishop Wojty?a would walk across the street from the Archbishop's residence, kneel down in that pew, and pray his rosary. (There is a small silver plaque which commemorates the spot.)  It doesn't make one holier to kneel where a saint has knelt, but it is edifying. Many a quiet moment of prayer has been spent in that pew, asking the intercession of Our Lady and, now, of the Pope who showed us how to be "totally hers."
Blessed John Paul II, Pray for Us!